A Wide Selection of Configured Systems & Individual Elements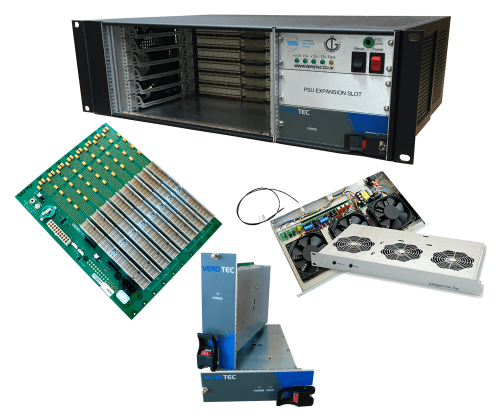 Verotec has a selection of configured systems plus individual elements such as backplanes, power supplies and cooling products, compliant with the PICMG / VITA specifications, and supported by a range of accessories. We offer these in standard VME and CompactPCI platforms across various mechanical form factors with customising options to suit specific applications.
Bus-based Systems
5 x standard platforms / system types
Highly configurable
Optimized cooling schemes
Industry compliant
Various VME and CPCI backplane options
ATX, pluggable and open frame PSU options
Excellent EMC performance
Removable and filtered air intakes
KM6 compatible (for accessories)
Backplanes
VMEbus (ANSI/VITA 1-1994), 3U J1 and J2, 6U J1/J2, 1-21 slot
VME64 Extensions (ANSI/VITA 1.1-1997) 6U, J1/J2, 1-21slot
VXIbus (Revision 1.4) 5, 6 and 13 slot in "C" and "D" size
VPX (VITA 46.0) – various
CompactPCI (PICMG 2.0 Rev.3) 3U, 6U, 2-8 slot
PXI (Revision 2.2) – 3U and 6U, 8 slot
CompactPCI Power Supplies
PICMG 2.11 compliant, 200 – 500W
IEEE 1101.10 form factor
High efficiency
Pluggable with current share
Auto ranging input
General Purpose Power Supplies
IEC 60297 Eurocard
Pluggable DIN H15 connector
UL, CSA and CE approved
20 – 240W versions
19″ Fan Trays
1U x 19" form factor
70% open area optimized vent pattern
Various input voltages
Silver anodised or black painted front panels
Low noise / high airflow performance
Local and remote alarm signals
Temperature sensing and monitoring functions
250mm (3-fan) and 350mm (6-fan) types
Standard, filtered and intelligent versions
115/230Vac and 12/24/48Vdc inputs
Auto-ranging and redundant power versions
Downloads
Technical details and ordering information for all of our standard products can be found in the relevant product brochures – these can be downloaded in .pdf format or viewed online by clicking on the respective link below. Should you require technical support, would like to request a drawing or 3D model, please contact us.