Cases for Instrumentation and General Electronics Applications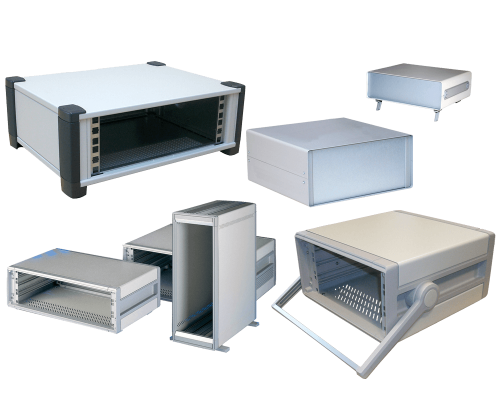 Ideal for instrumentation and general electronics applications, our range of desktop and portable metal enclosures provide a technical yet aesthetic packaging solution. Available on short leadtimes, they come in many sizes and can be easily customized with machining and printing to suit your requirement.
Diplomat Case
Strong and robust metal construction
Attractive styling
10.5" and 19" case and Eurocard caseframes
Ventilation options
Quick release top and bottom covers
No visible fixings for security and a clean appearance
Extensive range of KM6 compatible accessories
Horizontal, vertical and plinthed versions
3U, 4U, 6U and 9U Heights
320mm, 420mm, 520mm and 620mm depths
Chassis supports and trays
Front and rear panel accessories
Swing handles, locking doors and earth kits
LBX Case
16 different sizes
3U/6U and 160/220mm Eurocard PCB compatible
Simple yet technically competent design
Easily modified front and rear panels
4HP, 6HP, 12HP and 24HP heights
Front panel and card guide accessories
DIN connector and chassis plate accessories
Verotec Case
Aesthetically pleasing design
19" or Eurocard PCB mounting versions
EMC and IP54 rated with sealing kit
Ventilation options
Single or two-tone colour scheme
Stackable with adjustable viewing angle
No visible fixings for security and a clean appearance
Full range of KM6 compatible accessories
1U, 2U 3U and 6U Heights
260, 300, 400 and 500mm depths
10.5" and 19" widths
Ventilated and unventilated versions
Total Access Case
5 different sizes
Robust construction with easy access
Tilt feet to adjust viewing angle
Easily modified front and rear panels
205mm, 342mm and 430mm widths
260mm depth, 70mm, 100mm and 150mm heights
Card guide accessories
Chassis plate and mounting kti accessories
Downloads
Technical details and ordering information for all of our standard products can be found in the relevant product brochures – these can be downloaded in .pdf format or viewed online by clicking on the respective link below. Should you require technical support, would like to request a drawing or 3D model, please contact us.