Verotec Offer Two Distinct Eurocard Subrack Ranges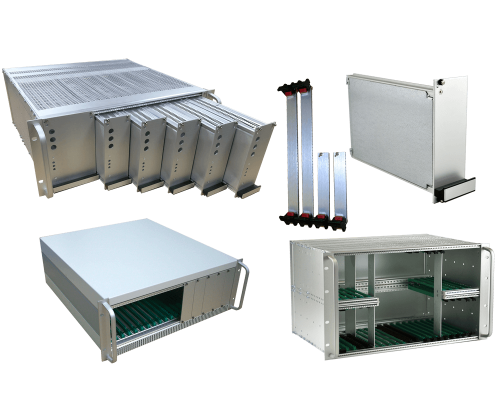 In order to meet the diverse mechanical, electrical and environmental requirements that today's markets and applications demand, Verotec offer two distinct Eurocard subrack ranges.
Recognized as leading products in their field, they are complimented by an extensive range of front panels, modules and accessories ensuring the needs of both board manufacturers and subrack users alike are met.
19″Subracks
KM6-II subracks are fully compatible with DIN 41494 and IEC 60297, they are strong, versatile and easy to assemble with many accessories. All tiebars have two screw fixing positions making the construction robust yet accurate and well suited to light and medium duty applications.
KM6-HD subracks, primarily designed for military use, would suit any rugged application where a resistance to shock and vibration is required. In addition to IEC 60297 and IEEE 1101.10/11, they are also designed to meet military standard MIL-STD-167. Features include positive guide retention, heavy duty two screw fixing tiebars and 3mm thick side plates and rack angles.
3U, 4U, 6U, 7U and 9U heights
180mm to 420mm depths
24HP, 42HP, 60HP and 84HP widths
Backplane and DIN connector mountings
EMC options
Eurotec Caseframes
Desktop, 19" rack mounting and portable versions
Various height, width and depth configurations
EMC shielding & cooling options
Front Panels
IEC60297 and IEEE1101.10 compatibility
Excellent EMC performance
Ident plates on fixed handles
Ergonomic and robust handles
Coding, pre-location and ESD options
Large choice of PCB, handle and fixing accessories
Unshielded (flat) and shielded (extruded) types
Plain, vertically hinged, horizontally hinged, fixed handle and ejector handle versions
3U, 6U and 9U heights
2HP-84HP widths
Anodised and conductively finished options
Accessories including handles, gaskets, card mounting brackets, fixings and mounting hardware
Modules
Standard and enhanced types
2-Rail (3-9HP) and 4-Rail (10-42HP) versions
3U and 6U heights
Anodised and conductively finished options
Accessories including side screens, top and bottom covers, handles, DIN connector mounting hardware and fixings
Downloads
Technical details and ordering information for all of our standard products can be found in the relevant product brochures – these can be downloaded in .pdf format or viewed online by clicking on the respective link below. Should you require technical support, would like to request a drawing or 3D model, please contact us.