Universal Air Ducting Trays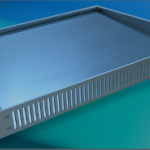 Universal air ducting trays are compatible with standard, filtered, monitored and intelligent fantrays and indeed any industry standard 19" rack mounting fan tray. Occupying 1U of rack height, they can be used to isolate a hot spot within an equipment rack, ducting cool air into the rack and/or hot air from the rack without affecting the other mounted equipment. An airtight seal is assured between ducting tray and adjacent equipment / fan tray by a foam gasket around the tray edge. Supplied with 19" mounting hardware.
Filter Elements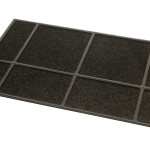 Replacement filter elements for filtered fan trays & fan module (supplied as replacement elements only)
Fans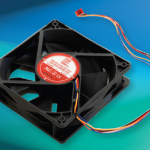 Mains Lead
A 10A rated mains lead comprising 2 metres of cable with a moulded IEC 60320 C13 appliance connector at one end and a moulded BS1363A plug, with a10A fuse fitted, at the other end. For use with the fans trays shown here we recommend that the fuse be changed to a 3A fuse (BS1362 type) to ensure continued protection of the fan tray wiring & components.
Thermostat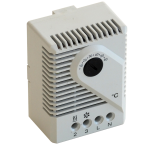 The noise from continuously running fans can be obtrusive and annoying, particularly where equipment is installed in an office environment, as well as consuming power that may not be required. Using a rack mounted thermostat to switch on the fans when a predetermined temperature is reached will reduce this to the occasions when the worst case requirements are being met. The thermostat is suitable for installation as part rack wiring and will operate, via the changeover contacts both heaters and cooling fans.
Specification:
􀂄 0-60oC operating range
􀂄 Rated 250VAC
􀂄 Contacts rated : 5A (2) contact closes as temperature rises
10A (4) contact opens as temperature rises